CyberLink PowerDirector 10 Ultra
Produs:

Nou, Fără garanție

Disponibilitate:

Preț:

Anuntul a expirat la:

11.05.2012, 21:31
CyberLink PowerDirector 10 Ultra - Descriere
Vânzatorul este direct răspunzator pentru produsul afișat în această pagină.
Stare produs: Nou
Garanție: Fără garanție
Disponibilitate: - Vezi produse similare
Specificatii
Produs nou, sigilat.
PowerDirector 10 is the world's fastest and most versatile video editing software. Packed with cutting edge creation tools that are easy to use and faster than ever before, you can transform your video footage into amazing HD movies—and even 3D—to enjoy or share with others.



Power to CREATE
Great Editing tools, Flexibility of Editing

PowerDirector 10 introduces a host of exciting new tools to create impressive video productions. Designed with easy-to-use and intuitive features, PowerDirector lets you create amazing videos with more than 300 professional tools and effects.
| | | | | | | |
| --- | --- | --- | --- | --- | --- | --- |
| Time Lapse | | Particle Effects | | Hand Painting | | Chroma Key |

Create Spectacular Movies with 300+ Pro Tools and Effects

PowerDirector 10 provides over 300 pro tools and integrated effects so you can easily create spectacular videos. Making Hollywood-style movies has never been so simple!

Add Even More Effects

Get creative with CyberLink's DirectorZone.com, where you can access more than 270,000 free effects,or buy and expand to third-party effects from NewBlue.
Free Hand Drawing Tool

Truly add your own creative touches by choosing different type of brushes and recording your hand-drawn work to integrate it into your video projects. You can even take your recorded drawings to another level with time distortion effects and action speed control. And, PowerDirector 10's freehand overlays are the perfect tool for creating informative instructional videos.

Have videos you want to share with other PowerDirector fans? Upload your Drawing Animations to DirectorZone where you can share your creations with others and get inspired by other members.
Amazing Particle Effects and Particle Designer

With the built-in particle effects library, you can add special particle objects to your video projects, such as sparkles, fairy dust, rain, snow and more. Inspired to create your own effects? Use the powerful particle designer to customize your own particle effects.

PowerDirector 10 also supports 3D editing, which means you can make your videos really pop by adding 3D depth effects to create the ultimate viewing experience on your 3D TV!
Professional Effect Plug-ins from NewBlue

PowerDirector 10 now supports third-party plug-ins to add even wider choice and luster to your video productions. Enjoy 10 built-in video effects from integrated effects provider, NewBlue.

And if you still can't find the video effect that's right for your project, you will be able to visit the NewBlue website for tons more great effects you can download and apply.
Professional Editing Environment

PowerDirector 10 comes with a 100-track timeline that lets you overlay videos, photos, objects and audio to create sophisticated effects like the pros do. With proxy editing, PowerDirector makes multi-layered HD video editing fast and easy.
Total Flexibility with 100-Track Timeline

PowerDirector 10 gives you the option to add up to 100 tracks of video and audio in the timeline. Take advantage of the robust and flexible timeline and create 10x10 video walls or even the most complex animations.
Arrange Footage in Story Board View

Editing a large, complex project is easier than ever with Story Board View. The view neatly arranges each scene so you can have a comprehensive view of your footage and be able to easily adjust the sequence of scenes by simply dragging and rearranging the thumbnail of the clip.
Precise Editing Tools
Precise Keyframe

Keyframe Control lets you edit all effects within a single interface so each effect is seamlessly synchronized. Keyframe controls can be used with particle effects, cropping, transforming and fix/enhance features


CyberLink PowerDirector 10 Ultra - Galerie foto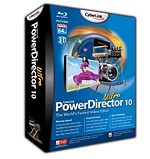 De cate ori a fost vazut acest articol: