-41%
GP-Pointer Metal Detector (Green)
Livrare gratuita la peste 50 produse comandate prin cos
Produs:

Nou, Ofer garanție, Cu factură

Disponibilitate:

Preț:

Anuntul a expirat la:

24.05.2019, 13:59

Optiuni:
Descriere
Vânzatorul este direct răspunzator pentru produsul afișat în această pagină.
Stare produs: Nou
Garanție: Ofer garanție
Factură: Cu factură
Disponibilitate: - Vezi produse similare
Specificatii
GP-Pointer Metal Detector - IP66 Waterproof, LED Light, 360 Degree Detection Area, Audio And Vibrating Alarm, Compact (Green)
Key Features...
Compact and lightweight metal detector makes sure youll never return home empty handed
360-degree detection area finds objects hiding anywhere in its surroundings
Audio and vibrating alarm informs you whenever a treasure is near
Durable IP66 design lets you use this metal detector in any weather condition and environment
Metal Detector
The GP-Pointer metal detector is a compact lightweight electronic gadget that will support you during your upcoming treasure hunting trips. With a length less than 23cm and weight below 160 grams, this metal detector can be easily carried around anywhere you go. It comes with its own holster and retractable thread. Thanks to this, youll be able to have it on your side at all times and dont need to worry about accidentally dropping it. However, even if this would happen, it is not something to worry about. Your metal detector features a tough IP66 design. This makes it resistant to drops and other impacts as well as to dust and water. It does not matter where your upcoming treasure hunt will take you, this metal detector will follow you anywhere.
This cool outdoor gadget features an intergraded LED light which allows you to use it at night. Its durable design furthermore lets you use this electronic gadget as a shovel. Thanks to this, youll be able to search for metal objects and dig them up with the same device. From now on, youll never return empty handed again as with this metal detector, success is guaranteed. It features a 360-degree detection area and is easy to use. You can be assured that with this outdoor tool at your side, not a single treasure in the area will stay hidden.
Whenever metal is detected, your detector will inform you through both audio and physical vibration alarms. The intensity of the alarm will increase gradually while getting closer to the object. This allows you to roughly predict the distance between you and the treasure that has been hidden underneath you. This outdoor gadget is powered by a regular 9V battery (not included). This cell brings along plenty hours of usage time to get you through the longest of days. For all of you that spend a lot of time in the outdoors searching for lost or hidden objects, this mini metal detector is the perfect accessory.
This metal detector comes with a 12 months warranty, brought to you by the leader in electronic devices as well as wholesale electronic gadgets.
Manufacturer SpecificationsGeneral
Battery: 9V (not included)
Operating frequency: 12kHz
Tuning: Automatic
Waterproof and dustproof (IP66)
Indicator: Proportional audio / vibration pulse rate
Control: Power switch
360 degrees side scan detection area
Operating temperature: -37 to +70 Degree Celsius
Dimensions
Main Product Dimensions: 230x 40x 45mm (L x W x D)
Main Product Weight: 157g
Weight/dimension is for the main item of this boxed product, to help you compare product sizes before buying: please do not base your shipping calculations on this price - shipping prices depend on your cart contents, shipping destination, and shipping method: please use the checkout to select options and preview shipping price for your total order.
Package Contents
Metal Detector
Case
Cort
User Manual
Enjoy the following benefits:
Orders processed and shipped within 1 Working Day
12 month warranty
In-house QC
Member discounts
Award winning customer support
Quantity order discounts
Worldwide Shipping
Certification: CE, FCC, RoHS
Galerie foto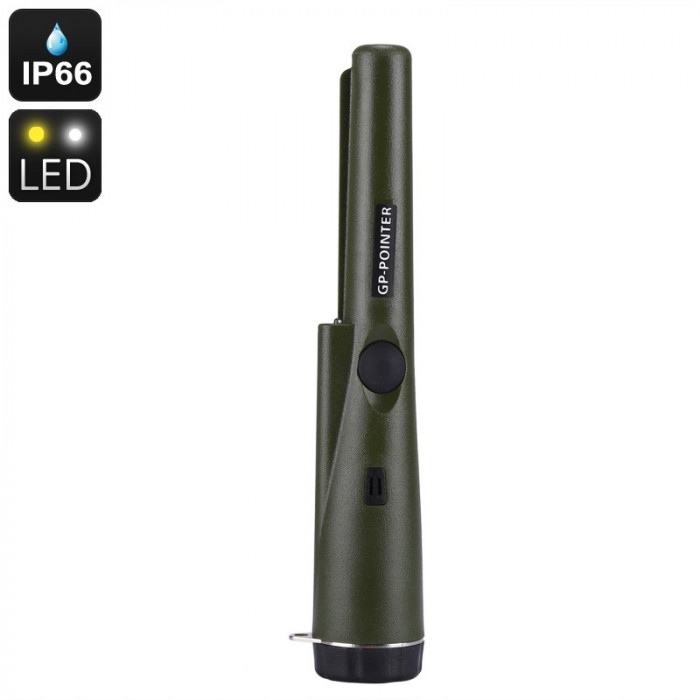 Modalitati de livrare si plata
LIVRARE
In Bucuresti
- Prin Curier rapid - 20,00 Lei in max. 16 zile lucratoare
In Romania:
- Prin Curier rapid - 20,00 Lei in max. 16 zile lucratoare
Politica de retur
- Produsul nu se poate returna.