MK 809 MK809 ANDROID 4.1 MINI PC TV DUAL CORE ANDROID TV DUAL CORE 1.6 GHZ, ANDROID Mini PC MK 809 ANDROID 4.1 SMART TV. MOTTO: CALITATE NU CANTITATE! - Oferte similare
Vezi toate produsele
MK 809 MK809 ANDROID 4.1 MINI PC TV DUAL CORE ANDROID TV DUAL CORE 1.6 GHZ, ANDROID Mini PC MK 809 ANDROID 4.1 SMART TV. MOTTO: CALITATE NU CANTITATE!
Produs:

Nou, Fără garanție

Disponibilitate:

Preț:

Anuntul a expirat la:

30.10.2013, 00:07

Ai o nelamurire?
MK 809 MK809 ANDROID 4.1 MINI PC TV DUAL CORE ANDROID TV DUAL CORE 1.6 GHZ, ANDR... - Descriere
Vânzatorul este direct răspunzator pentru produsul afișat în această pagină.
Stare produs: Nou
Garanție: Fără garanție
Disponibilitate: - Vezi produse similare
Specificatii
MK809 ANDROID 4.1 MINI PC TV DUAL CORE
Transforma orice televizor cu intrare HDMI in Smart Tv !
MiniPc MK809 transforma TV-ul in Smart TV! Dual Core 1.6GHZ/ 4G HDD/Android 4.1/Wifi/HDMI.
In principiu pentru navigare puteti folosi orice tastatura si mouse ce se pot conecta prin USB sau achizitionati o telecomanda cu touchpad sau airmouse - sunt mult mai utile si mai confortabile.
CARACTERISTICI:
Model: MK809
Mini TV Dongle functioneaza cu Android OS.
Poti naviga pe internet prin Wifi, comunica cu, prietenii tai prin aplicatiile SNS, Vizualiza filme, poze sau asculta muzica , poti cauta informatii si urmari televizorul online.
Se pot face setari pentru : limba, internet , etc.
Sunt preinstalate: Android 4.1 Jell Bean OS, Google Play Store.
Format audio: MP3,OGG,WMA,WMAPRO
Format foto :JPEG, PNG, BMP, GIF
E-Book:PDF, TXT etc.
TV DUAL CORE 1.6 GHZ, 1GB RAM, 4GB HDD.
Suporta card MICRO SD extern (memorie externa) cu o capacitate intre 1GB-16GB si Hard Disk: 1GB ~ 5TB.
Sistem de operare: Google Android 4.1 Jelly Bean
Culoare : negru
CPU:Rockchip RK3066 1.6Ghz Cortex A9 Dual Core
GPU:Mali400 MP4. Quad core,2D/ 3D/ OpenGL ES2.0/,OpenVG1.1. Video Decoding: Support 1920x1080p@60fps,Video Encoding: Support encoding in H.264. 1080p@60fps, 720@100fps
RAM:DDR3 1GB RAM
ROM:4 GB ROM
Communication:WiFi 802.11b/g/n ( Dual Atenna)
Ports:1 x USB 2.0,1 x Mini USB interface( for Charging),1 x OTG,1 X HDMI,1 x Micro-SD card slot ( TF card slot )
Power: 90-230V,50/60Hz input, max. power: 5W, Output: HDMI
Flash Player: Support Adobe Flash 11.x
Gaming:Built-in 3D Accelerator. Support 3D gaming
Email:Gmail, POP3/SMTP/IMAP4.
Video Decoding:Mpeg1/2/4.H.264,VC-1,Divx,Xvid,RM8/9/10,VP6,Video Formats: MKV,TS,TP,M2TS,RM/RMVB,BD-ISO,AVI,MPG,VOB,DAT,ASF,TRP,FLV etc full formats
Audio Decoding:DTS,AC3,LPCM,FLAC,HE-AAC
Dimensiuni: 10.5cm x 4cm x 1cm - 4.13inch x 1.57inch x 0.39inch
PACHETUL CONTINE:
1 X MK 809 ANDROID 4.1 MINI PC
1 X INCARCATOR
1 X CABLU HDMI
1 CABLU USB
1 X MANUAL INSTRUCTIUNI IN LIMBA ENGLEZA
Alte caracteristici:
- Make sure use a 5V/1A output AC adapter instead.
- Please unplug power supply,when there is nobody at home or didn't use over a long period of time
- Please keep power cord from physical or mechanical damage.
- Please use exclusive AC source is connected with the ground.
- Wi-Fi Internet connection
- HDMI Out 1080P
- Adobe Flash 11.1 Support
- Rockchip RK3066 1.6Ghz+Mali400 GPU
- Android Market Place, Thousands of apps available
- Remote controller / Wireless Keyboard/mouse supported
- Supports multi language: Arabic, English, French, Italian, German, Spanish, Portuguese, Greek, Dutch, Danish, Russian, Polish, Norwegian, Swedish, Czech, Turkish, Simplified/Traditional Chinese, Korean, and Japanese.
What Can you do with the Android Mini PC?
- Streaming video: Imagine being able to watch YouTube on your TV rather than on a small computer screen. Or even your other video subscriptions such as Netflix, Hulu or Amazon Video Services. You can now do that right on yourhome theater system instead of your tablet or phone. Oh and it's all displayed in HD with up to 1080p resolution.
- Listen to music: The Android TV even acts as a streaming device for music so you can play all of the content that's on your computer or home network drive (NAS). That means you access not only your downloaded music but also your movies, TV shows and even your holiday pictures right on your home entertainment system.
- Gaming: Why wait for Angry Birds to come to Xbox360 or PS3 when you can play it on your TV with our Mini PC? Or how about racing and strategy games? Wouldn't they look better on your TV than on your phone?
- Social Media: For all you social media addicts who can't go 15 minutes without checking your Facebook and Twitter feeds we wouldn't deprive you of that. Trust us, we're just as hooked as you are!
- News: Get CNN and BBC on demand. The story you want, when you want it, right on your big screen TV. For those who are less addicted to news you can access all your feeds with Google Currents, Pulse, Flipboard and similar apps.
- Work: Edit documents, read PDFs, review PowerPoint, send and receive emails and even do video conferences.
- Google Maps: Tired of squinting at your screen trying to find road directions? Yes we know you won't be able to take your TV with you on the road, but the satellite imaging is insane on a 50-inch LCD!
- Web Browsing: And of course you can to that too. Use Dolphin browser, Opera, or even Chrome and sync it with your laptop's browser.
Ofer si cer maxima seriozitate. In acelasi timp garantez calitatea produselor si serviciilor oferite. Va rog sa licitati doar daca doriti sa achizitionati produsele.
Dupa ce ati licitat va rog sa ma contactati pe mail sau telefonic, pentru a definitiva tranzactia.
Vizitati si celelalte licitatii ale mele. http://www.okazii.ro/catalog/?per_page=200&user_list=muscheta&sort=timp_ramas_asc
VA MULTUMESC.
MK 809 MK809 ANDROID 4.1 MINI PC TV DUAL CORE ANDROID TV DUAL CORE 1.6 GHZ, ANDROID Mini PC MK 809 ANDROID 4.1 SMART TV. MOTTO: CALITATE NU CANTITATE! - Galerie foto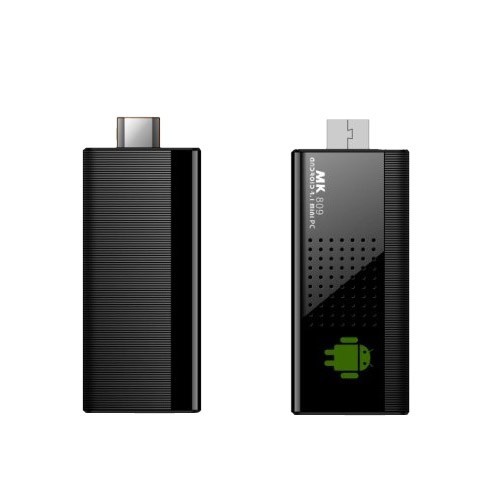 De cate ori a fost vazut acest articol: