panasonic toughbook ,militare ,lichide , CF-Y7 si CF-W7 ,c2d /2gb/wlan ,12",14"
Acest produs beneficiază de

Produs:
Second Hand
, Certificat de garanție 12 luni, Cu factură
Livrare:
Romania
- Curier rapid - 30,00 Lei
Bacau - Predare personală; Detalii

Timp de livrare:
2 zile lucratoare
Politica de retur:
Acest produs poate fi returnat in 3 zile
Detalii
Plata:
La predare
Ramburs
Online

Vânzatorul este direct răspunzator pentru produsul afișat în această pagină.
Stare produs: Folosit
Garanție: Certificat de garanție 12 luni
Factură: Cu factură
Marca

Lenovo

Capacitate hard disk

80 GB

Diagonala ecran

14

Memorie RAM

2 GB

Procesor

Intel Core 2 Duo

Tip unitate stocare

HDD
Specificatii
LAPTOPURI MILITARE PANASONIC TOUGHBOOK CF-Y7 si CF-W7 cu ecrane de 14" si 12" intel core2duo L7500 /U***/ 2GB / 80/DVDRW/WLAN/XPP sticker ,ecran usor intunecat la butare .
.
Companies that design laptops from the ground up can sustain a competitive advantage over those that buy their designs from other (mostly Taiwanese) manufacturers. Panasonic, for example, is what you could call a core manufacturer, optimizing its Toughbook laptop line with custom-tailored frames and integral components put together by its own engineers. Its latest, the Toughbook CF-Y7 ($2,370 street), owns the distinction of being the lightest 14-inch ultraportable in the market. Its unique pop-up optical drive, the semi-rugged exterior, and a big screen combine to form a system that weighs only 3.5 pounds. If only the price were more agreeable, this laptop would fit any environment, not just the hostile ones.
View Slideshow
See all (5) slides





More

The Toughbook CF-Y7 might look intimidating at first, because its dimensions (10.1 by 12.3 by 1.3 inches, HWD) are like those of the HP Compaq 6910p and Lenovo ThinkPad T-Series laptops. Once you pick it up, though, you might want to start jogging with it. At 3.5 pounds, it is incredibly light, considering that it integrates a standard-size 14-inch screen. The only other 14-inch laptop that comes close to its weight is the Fujitsu LifeBook S6510, which weighs exactly 4 pounds. Unlike the S6510, the Toughbook CF-Y7 doesn't use a widescreen form factor, although its SXGA+ (1,400-by-1,050) resolution is considered a grade higher than the S6510's WXGA (1,280-by-800) resolution. It comes in a matte finish, which minimizes glare from desk lamps and ceiling lights yet is bright enough for outdoor use—as long as it's not in direct sunlight.


You can surmise from the Toughbook moniker that the CF-Y7 can take some abuse. The company labels it as a business-rugged laptop rather than a semi-rugged one, like the Toughbook CF-52. For its business-rugged laptops, Panasonic uses a loose interpretation of the military specification test procedures (MIL-STD 810F) required for semi-rugged and rugged laptops. Instead of a 3-foot drop, for example, a business-rugged laptop would survive a 12-inch drop (though, per Panasonic's request, we didn't test this). Features like a shock-mounted hard drive, a spill-resistant keyboard, and a thick magnesium alloy chassis (which Panasonic molds to the frame perfectly) are typically associated with the term "business-rugged." Aside from its protective connotation, it also means having different wireless technologies and long battery life, ideal for frequent business travelers.

There is nothing more subjective than evaluating screens and keyboards. That said, the Toughbook CF-Y7's keyboard isn't the best in the industry (that distinction, in my opinion, belongs to the ones on the Lenovo ThinkPads, such as the X300 and the T61 Widescreen), but it is full-size and the keys are responsive. The CF-Y7's circular touchpad, with the two mouse buttons arranged in an arc above it, is cleverly designed, but not as cleverly as the gigantic, gesture-based touchpad on the Apple MacBook Air or the dual pointing devices—a pointing stick and a touchpad—on the Lenovo X300.
Specifications
Type
Ultraportable, Business, Small Business
Processor Name
Intel Core 2 Duo L7500
Operating System
Microsoft Windows Vista Business
Processor Speed
1.6 GHz
RAM
2 GB
Weight
3.5 lb
Screen Size
14.1 inches
Screen Size Type
Standard
Graphics Card
Intel GMA X3100
Storage Capacity (as Tested)
80 GB
Networking Options
802.11n
Primary Optical Drive
DVD+R DL
More

It used to be that integrating an optical drive was a big deal for an ultraportable. Now, it's practically the norm. Still, the Toughbook CF-Y7 and the Fujitsu S6510 are the only two ultraportables with both a 14-inch screen and a dual-layer DVD burner. The Toughbook CF-Y7's DVD burner is unique in having a pop-up lid that opens and ejects like an old-school, standalone CD player. The drive is completely integrated into the frame, so it can't be unscrewed or removed by a latch.

The Toughbook CF-Y7 has two USB ports, fewer than you can find on the Sony VAIO VGN-SZ791N or the Lenovo X300. It also has an SD card slot, VGA-out, and a decent-sounding pair of speakers. Like the Sony and Lenovo, the Toughbook CF-Y7 is mobile broadband–ready, meaning that you can configure it with a Sprint or Verizon EV-DO Rev A modem or an AT&T HSDPA modem (albeit for a substantial fee). I'm a little surprised that Panasonic doesn't offer solid-state drives even as options, given that these drives are more durable and consistent with the Toughbook name. Instead, you choose between 60GB and 80GB drives, both of which spin at 5,400 rpm. I'm also disappointed by the lack of a webcam. With the prominence of Skype and other video-conferencing clients, a webcam has become an essential feature for business travelers.

The Toughbook CF-Y7 runs on a 1.6-GHz Intel Core 2 Duo L7500 processor, a low-voltage chip similar to the one in the Apple MacBook Air. The Toughbook CF-Y7 edged out the MacBook Air by a single point on SYSmark 2007 Preview Overall scores. The Toughbook CF-Y7 also bested the MacBook Air on our video-encoding and CineBench R10 tests. This gives the Toughbook CF-Y7 the slight advantage with hard-core tasks like video editing and photo rendering.

Yet the Y7 is not a performance thoroughbred by any means. For one thing, this configuration comes with only 1GB of RAM, which explains its woeful Adobe Photoshop CS3 scores. In the age of Windows Vista, RAM prices are low enough for vendors to have begun putting in 3GB, so we shouldn't be seeing new systems with less than 2GB (which is what we recommend for systems running Vista). Because of its meager RAM, combined with its low-voltage chip, the CF-Y7 trailed the Fujitsu S6510 by 21 percent on the SYSmark Preview 2007 Overall score. (The Sony SZ791N is the best-performing ultraportable, thanks to a powerful Intel "Penryn" processor and discrete nVidia graphics.) The Toughbook CF-Y7 may not be the fastest ultraportable on the block, but what it lacks in power it gains back with battery life. The 4 hours 25 minutes it scored on MobileMark 2007 tests is 40 minutes longer than the Fujitsu S6510's time.

Panasonic is also proactive in keeping up with green standards. It doesn't have a recycling program in place, but the company is actively deploying end-of-life parts to other countries, reducing the proportion of stuff that enters the waste stream. Though the Toughbook CF-Y7 is not certified for EPEAT Gold like the Lenovo X300 and Fujitsu S6510, it meets enough requirements for a Silver rating. It has been qualified for Energy Star 4.0, although according to my energy readings using the P3 International Kill A Watt meter, the Toughbook CF-Y7 consumes 16 watts in idle mode, 2W above Energy Star 4.0 requirements. By comparison, the MacBook Air and the Lenovo X300 came in lower, with 14W readings.

If you can find some way to factor out the price, the Panasonic Toughbook CF-Y7 is a business-rugged ultraportable that will appeal to frequent travelers, not just people who work in harsh environments, as the "Toughbook" moniker suggests. Its feature set may not be as impressive as the Lenovo X300's, and its looks don't draw crowds like the Apple Air. Still, the Y7 can boast of being the lightest ultraportable equipped with a 14-inch screen and an integrated optical drive. Take that, Apple and Lenovo!
Galerie foto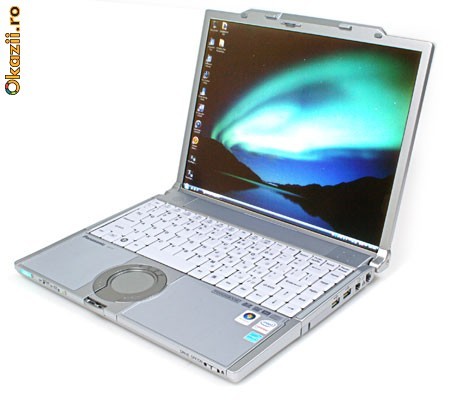 Modalitati de livrare si plata
LIVRARE
In Bacau
- Predare personala in max. 1 zi lucratoare
In Romania:
- Prin Curier rapid - 30,00 Lei in max. 2 zile lucratoare
PLATA
- La predare
- Ramburs
- Online
Politica de retur
- Produsul se poate returna in maxim 3 zile lucratoare
- Metoda de retur: Ramburs contravaloare produs
- Costul transportului va fi suportat de catre cumparator
- Alte detalii: Retur acceptat in conditiile Garantiei de Livrare
panasonic toughbook ,militare ,lichide , CF-Y7 si CF-W7 ,c2d /2gb/wlan ,12",14"