Placa video GIGABYTE GeForce GTX 550 Ti 1GB GDDR5 192-bit HDMI
Produs:

Second Hand

, Fără garanție

Disponibilitate:

Preț:

Anuntul a expirat la:

16.08.2018, 12:11

Ai o nelamurire?

Optiuni:
Descriere
Vânzatorul este direct răspunzator pentru produsul afișat în această pagină.
Stare produs: Folosit
Garanție: Fără garanție
Disponibilitate: - Vezi produse similare
Specificatii
NU accept plata cu cardul!
Produs second hand nu pot accorda garantie !
Produs testat in conditii corespunzatoare si 100% functional !
Poze si primturi reale !
Powered by an NVIDIA GeForce GTX 550 Ti GPU, this card is built around 192 CUDA cores with a 1GB192-Bit GDDR5 memory, producing amazingly beautiful graphics and lifelike environmental interaction in the hottest DirectX 11 game titles. An array of advanced NVIDIA technology – like NVIDIA 3D Vision, NVIDIA SLI, and NVIDIA PhysX – offers you more than one way to elevate your gaming experience.
Performance is only a part of the story. GIGABYTE UD2 components and a custom-designed 10cm fan ensure optimized and reliable performance, while extending the lifespan of your graphics card.
ULTRA DURABLE 2

Using high-quality components on graphics cards is the key factor for having a long-lasting, stable, and reliable product. GIGABYTE is again setting a new standard by using Ferrite Core Chokes, Low RDS (on) MOSFET, and Lower ESR Solid Capacitors, providing the stability and reliability from their high-end graphics solution. In addition, GIGABYTE Ultra Durable 2 Edition graphics cards now feature a sophisticated layout topology. This state-of-the-art power design from GIGABYTE delivers the ideal integration of thermal, electric characteristics, digital signals, power circuitry, and optimum placement of components for enhanced graphics performance.

GIGABYTE CUSTOM-DESIGNED 10 CM COOLER

As opposed to the stereotype, GIGABYTE is able to maximize the fan size to 10cm with the latest cooling design. With a 10cm fan, the card is virtually silent as its noise level runs much lower.

GOLD-PLATED HDMI

Gold-plated, durable large contact area connectors have been used for optimum signal transfer between connections.

PHYSX TECHNOLOGY

NVIDIA PhysX is the next big thing in gaming! Delivering physics in games is no easy task. It's an extremely compute-intensive environment based on a unique set of physics algorithms that require tremendous amounts of simultaneous mathematical and logical calculations. The best way to get real-time physics, such as explosions that cause dust and debris, characters with life-like motion, or cloth that drapes and tears naturally, is with an NVIDIA PhysX-ready GeForce processor. PhysX software is widely adopted by over 150 games, is used by more than 10,000 registered users and is supported on Sony PlayStation 3, Microsoft Xbox 360, Nintendo Wii, and PCs. PhysX technology will take gaming to a whole new level.

CUDA TECHNOLOGY

The NVIDIA CUDA technology unlocks the power of the hundreds of cores in your NVIDIA GeForce graphics processor (GPU) to accelerate some of the most performance hungry computing applications.

NVIDIA SLI TECHNOLOGY

AND NVIDIA 3D VISION SUPPORTSLI technology delivers up to two times the performance of a single GPU configuration for unparalleled gaming experiences, by allowing two graphics cards to run in parallel. The must-have feature for performance PCI Express graphics, SLI dramatically scales performance on 60 top PC games. In addition, NVIDIA 3D Vision brings a fully immersive, stereoscopic 3D experience to the PC. A combination of high-tech wireless glasses and advanced software, 3D Vision transforms hundreds of PC games into full stereoscopic 3D. Users can even watch 3D movies and 3D digital photographs in crystal-clear quality.
Chipset

Producator chipset

nVidia

Seria

GeForce GTX 500

Tehnologie de fabricatie

40 nm

Procesor grafic

GF116

Frecventa procesor

900 MHz

Data lansarii chipset

15.03.2011

Frecventa shader

1800 MHz

Versiune Pixel Shader

5.0

Versiune Vertex Shader

5.0

Vertex Pipelines

192

Pixel Fill Rate

21600 MPixels/sec

Texture Fill Rate

28800 MTexels/sec

Fragment Pipelines

192

Texture Units

32

Raster Operators

24

Numar de tranzistoare

1170 milioane

CUDA Cores

192

Memorie

Tip memorie

GDDR5

Dimensiune memorie

1 GB

BUS memorie

192 bit

Frecventa memorie efectiva

4100 MHz

3D API

Suport DirectX

11.0

Suport OpenGL

4.1

Porturi

VGA

1

DVI

1

HDMI

1

Racire

Sistem racire

Activ

Dimensiune racire

Dual slot

Tip racire

Aer

Altele

RAMDAC

400 MHz

HDCP Ready

Da

Tehnologii

NVIDIA 3D Vision ready




NVIDIA SLI technology




NVIDIA PhysX technology




NVIDIA CUDA technology




NVIDIA PureVideo HD technology

Alimentare separata

1x 6-pin PCI-E
Galerie foto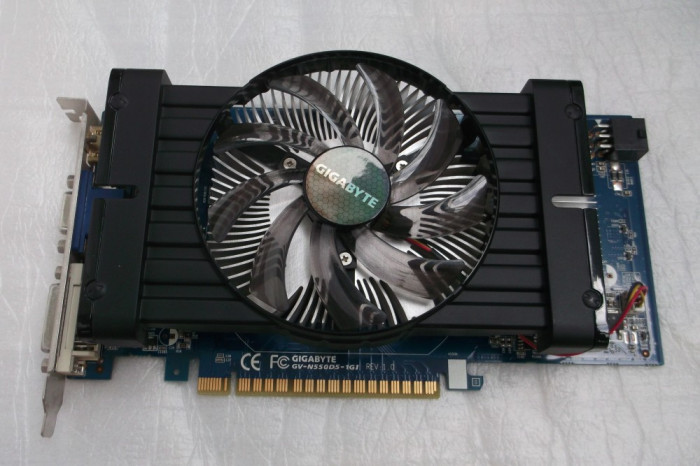 Modalitati de livrare si plata
LIVRARE
In Bucuresti
- Predare personala in max. 3 zile lucratoare
PLATA
- La predare
- Ramburs
- Detalii: la predare
Politica de retur
- Produsul nu se poate returna.