Yamaha AVENTAGE AV receiver RX-A3070 BLACK, 11.2 canale, UHD 4K, Dolby Atmos
Livrare:
Lipanesti - Predare personală; Detalii

Timp de livrare:
in max. 24 de ore
Politica de retur:
Produsul nu se poate returna

Descriere
Vânzatorul este direct răspunzator pentru produsul afișat în această pagină.
Stare produs: Nou
Garanție: Fără garanție
Vezi toate ofertele pentru
Specificatii
Yamaha AV receiver RX-A3070 BLACK, 11.2 canale, UHD 4K, Dolby Atmos,nou, niciodata folosit, Pret 7500RON.

Receiver multicanal AV Yamaha RX-A3070 Black, 11.2 canale, UHD 4K, Dolby Atmos® and DTS-X™, ESS DAC, deezer, Tidal, DAB, DAB+
Flagship 9.2-channel AVENTAGE AV receiver offering the ultimate in sound quality and 3D presence.
Features
Enter a New World of Sound with Dolby Atmos® and DTS:X™
These sound technologies transport you from an ordinary moment into an extraordinary experience with captivating, multidimensional sound that fills your room with amazing richness and depth. These sound technologies allow for music, people and objects to come alive in breathtaking detail and flow in precise choreography all around you, making you feel like you are right in the middle of the story.
Dolby Atmos and DTS-X Playback with CINEMA DSP HD3
This AV receiver supports Dolby Atmos and DTS-X playback with CINEMA DSP HD3, taking the surround sound experience to new heights. The revamped CINEMA DSP HD3 features new signal processing algorithms and three sets of high performance processors. This maximises theatre sound effects, accurately reproducing a new dimension of realism for a sound field with a rich sense of presence and no feeling of boundaries. You will experience a realistic cinema sound field with the sense of truly being immersed in the movie scene.
CINEMA DSP HD3 with Rear VPS (Virtual Presence Speaker)
The RX-A3070 is now equipped with three Yamaha original high performance DSP devices, achieving high speed and large capacity audio signal processing. As a result, by using front, centre and surround speakers to create a rear virtual speaker, CINEMA DSP HD3 playback up to 11.1 channels is possible* even with a 7.1-channel speaker configuration. The total reproduction of spatial data, including the vertical axis, helps create an overwhelmingly realistic sound field.
* Requires connection to a front presence speaker.
Speaker Layout Patterns Designed for Dolby Atmos Playback
Yamaha provide multiple placement patterns for presence speakers that support Dolby Atmos, creating a sound field that's ideal for your setup. Any layout can be appropriately reproduced, including the three-dimensional space of CINEMA DSP as well as Dolby Atmos.
Furthermore YPAO R.S.C. which optimises the listening environment and fundamental high quality audio design takes full advantage of the detailed spatial localisation capability of Dolby Atmos.
The combination of Dolby Atmos and Yamaha AV receivers will fill the room with multidimensional sound that makes you feel as if you are right in the middle of the story unfolding on the screen.
Enhanced – A New Cinema Sound Programme Developed on the 30th Anniversary of CINEMA DSP
With this year marking thirty years since the release of the first CINEMA DSP-1 unit in 1986, Yamaha has continued its history of innovation with the development of the Enhanced next-generation CINEMA DSP sound field programme installed in the RX-A3070, featuring a new sound field processing algorithm that further elevates its ability to process the motion and spatial representation data found in the latest audio-visual media including three-dimensional surround formats. Developed targeting cutting-edge movie theatre sound field technology equipped with multi-top speakers (multiple overhead speakers), Enhanced handles not only the rear surround field but also the front presence field and independent left and right fields (stereo), tracking sound source movement in all directions for uniquely uniform sound field creation not found with conventional programmes. The result is a natural sound field effect that follows every sound source, including objects present in the most modern formats, and delivers dynamic sensations of motion and spatiality that faithfully reflect the spirit of the filmmaker's vision.
AVENTAGE AV Receivers: Designed to Deliver the Highest Levels of Audio Performance
The AVENTAGE line of high-performance AV receivers is based on the audio design concept of providing a massive, full-bodied sound for movie sound effects and the accurate reproduction of music sources. By expertly harmonising traditional and advanced technologies, every factor that affects sound quality, from materials and parts to construction, layout, vibration damping (unique foot) and "fine-tuning" the sound, is handled with no other thought than to achieve the best possible audio quality. As a result, every AVENTAGE model has the ability to reproduce the most subtle details of high-definition sound, so that listeners can enjoy a truly high-class sound studio experience at home.
Anti Resonance Technology Wedge Helps to Ensure that Vibrations Do Not Affect Sound Quality
The Anti Resonance Technology (A.R.T.) Wedge is a fifth foot in the centre of the unit. It dampens vibrations from the power transformer, power transistors and heat sinks, as well as vibrations that might be caused by the sound from the speakers.
H-shaped Cross Member Frame
The interior of the receiver is reinforced with cross members in an H shape to provide an extremely rigid and stable frame. This reduces chassis vibration to virtually zero even during high volume output (seemingly minor vibrations can affect the sound), maintaining the highest audio quality.
Symmetrical Power Amplifier Layout
This is just one of the many design details that all combine to create a superior receiver. The interior of the unit has been precisely planned, circuit-routed and built so that the left and right channels are physically and electrically isolated. This naturally maximises channel separation, but also greatly improves signal to noise ratio and also helps to achieve a wide, open sound stage.
Aluminium Front Panel Offers Visual and Aural Benefits
All of the AVENTAGE components feature the same sleek, clean design, with an elegant aluminium front panel and silky touch volume / selector knobs. The aluminium front panel is used to effectively shield sensitive circuitry from external noise and electronic radiation generated by dimmer switches, fluorescent lighting, video monitors and so on. This ensures optimum sonic performance in the widest range of installation environments.
Sound Tuning Achieved with High Quality Parts for Optimum Performance
Every single part in an AV receiver affects the sound quality. For AVENTAGE models, extra time is taken to find (or develop) the exact parts needed to achieve the highest performance possible. Sound technicians go through a testing process to, in effect, "tune" the receiver's sound.
* Some of the parts shown are not used in this model.
The latest ESS SABRE PRO Premier DAC™ ES9026PRO
Our flagship RX-A3070 model features ESS's state of the art 32-bit SABRE PRO Premier DAC ES9026PRO. ESS's patented 32-bit Hyper Stream, Total Harmonic Distortion (THD) compensation function works to minimise noise levels. In combination with Yamaha's original D.O.P.G. (DAC On Pure Ground) concept, which eliminates the potential difference between audio circuit stages to reduce ground noise, it dramatically enhances silence and resolution over the entire audio range for rich and expressive reproduction of even the most delicate sounds.
XLR Input Terminal for Low Noise Signal Transmission
The RX-A3070 comes equipped with XLR balanced audio input terminal that have an outstanding reputation in the world of professional audio and are highly sensitive to noise in the mix. In combination with a Blu-ray Disc™ player such as our BD-A1060, or CD player such as our CD-S3000 / S2100 equipped with balanced output terminal, this enables high-quality signal transmission with reduced degradation of sound quality due to external noise. The balanced input terminal even feature gold-plated XLR terminal produced by Neutrik, a company with a long history of experience working with Yamaha on our for-business mixing consoles.
Galerie foto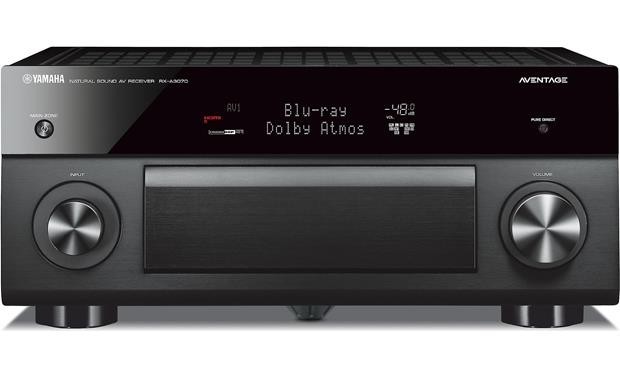 Modalitati de livrare si plata
LIVRARE
In Lipanesti
- Predare personala - Lipanesti in max. 24 de ore
Politica de retur
- Produsul nu se poate returna.
Yamaha AVENTAGE AV receiver RX-A3070 BLACK, 11.2 canale, UHD 4K, Dolby Atmos