Router modem wireless romtelecom ZyXEL P-870HW-51a v2
Produs:

Nou, Fără garanție

Disponibilitate:

Preț:

Anuntul a expirat la:

31.03.2013, 21:13

Ai o nelamurire?
Router modem wireless romtelecom ZyXEL P-870HW-51a v2 - Descriere
Vânzatorul este direct răspunzator pentru produsul afișat în această pagină.
Stare produs: Nou
Garanție: Fără garanție
Disponibilitate: - Vezi produse similare
Specificatii
System Specifications
VDSL Compliance
ITU.T G.993.1 VDSL1
ITU.T G.993.2 VDSL2 (Profile 8a, 8b, 8c, 8d, 12a, 12b and 17a support)
Support VDSL band plan,ADSL band , Annex A, Annex B, 997, 998
Support up to 100Mbps downstream and 45Mbps upstream
Rate Adaption
SRA (Seamless Rate Adaption)
UPBO (Upstream power back-off)
VDSL OAM communication channels
ADSL
Dual latency support in VDSL mode
INP value up to 16
Trellis coding
PhyR PHY Level Retransmission Technology
PTM mode
PPPoE (RFC2516)
Wireless
IEEE 802.11b/g Compliance
Data Rates: 54Mbps and Auto fallback support
Static and Dynamic WEP Key(64/128 bit)
MAC Address filter: (32)
WPA/ WPA-PSK
WPA2/WPA2-PSK
Auto Channel selection
Multiple SSID (4)
WDS (Wireless Distribution System)
Multicast traffic pass-through
WPS (Wireless Protected Setup)
Switch
IEEE 802.3 10BaseT Ethernet
IEEE 802.3u 100BaseTx Ethernet
Flow control in full duplex mode
Back pressure in half duplex mode
Management
Web
CLI (Command Line Interpreter)
SSH (Secure Shell function)
Remote management for Web/telnet/ftp
Access control for remote management
Firmware upgrade via Web/FTP/TFTP
Text based configuration
DSL Forum TR-069
DSL Forum TR-064 *
DSL Forum TR-111 *
802.1ag (Connectivity Fault Management) *
QoS
Support flexible packet classification
Support 4 priority Queue with Strict Priority scheme
Support Tag processing
Queuing and Scheduling
Traffic Shaping
Auto Priority Mapping
Queue Management
Hardware Specifications
WAN: one RJ-11 interface for VDSL (over POTS)
LAN: four 10/100 Auto MDI/MDI-X RJ-45 interface
Wireless: one non-detachable 3dBi Antenna
WLAN/WPS button: one real button for WLAN on-off and WPS configuration
Power Switch: one push type button
Reset: one restore factory default button
Status LEDs indicator
12V DC 1000mA
Power supply:120V/230V/240V
Physical Specifications
Dimensions (WxDxH): 189 × 132 × 40 mm (7.44" x 5.2" x 1.57")
Weight: 366 g (0.81 lb)
Note: Firmware upgradeable for future enhancement.
nou in cutie sigilat pret 34.99
Router modem wireless romtelecom ZyXEL P-870HW-51a v2 - Galerie foto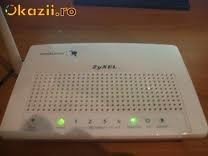 Vanzatorul a activat discutia privata pentru acest articol