Smartwatch ceas pentru femei H8, pulsometer tensiune arteriala argint
Cost unic de transport la toate comenzile acestui vanzator
Produs:
Nou
, Certificat de garanție 24 luni, Cu factură
Livrare:
Romania
- Livrare gratuita Curier rapid
Detalii
Timp de livrare:
5 zile lucratoare
Politica de retur:
Acest produs poate fi returnat in 7 zile
Detalii

Vânzatorul este direct răspunzator pentru produsul afișat în această pagină.
Stare produs: Nou
Garanție: Certificat de garanție 24 luni
Factură: Cu factură
Specificatii
H8 smart tape for everyone
Being fit is in vogue, and the H8 smartwatch is a very good choice.
Buying a smartwatch is an excellent opportunity to introduce embedded technologies into your life, which are gaining popularity every year.
These smart watches, thanks to modern functions, can improve the quality of our training and change the communication modes.
The superb design will fit perfectly with many evening creations and, at the same time, will count the distance traveled, calories burned and other important aspects of your health.
Thanks to the special software, they harmonize perfectly with smartphones, increasing their capabilities.
It is strange that you do not have to pay huge amounts of money for this. Of course, everything depends on the level of sophistication and the type of destination, but we can buy a good smartwatch , with rich intelligent functions, at a really reasonable price.
This is the Smartband H8 .
Finally, a SMARTWATCH watch designed for ladies. Great Draws and a wide range of colors of the watch will probably find applications in the Women's group.
8 training modes to choose from

Sleep Monitor

pedometer

Blood pressure meter

Heart rate meter

Oxygen meter in the blood

Calorie burn record

Call notifications received

Notifications via SMS, Facebook, WhatsApp and others.
The kit includes a device that allows you to adjust the strap at the circumference of the wrist. You can loosen a few seams and you can reduce or increase the watch's bracelet.
.
Technical specifications
Dedicated smartphone application in Polish

Compatible with iOS version 8.0 and Android version 4.4

Bluetooth 4.0

PPG Chip: GIVE 3300

Modern processor NRF52832

Waterproof class IP67

The IP67 rating means: You cannot dive in salt water, avoid hot baths and hot steam.

Due to the high pressure, you cannot jump into the water.

The IP67 standard allows water temperatures from +10 to +35 degrees Celsius.

0.96 O COLOR Oled Display with high resolution of 80 * 160 pixels

Dynamic heart rate monitor

Modern battery with 120mAh lithium polymer

Standby time up to 10-15 days

Working time up to 3-5 days - forget about continuous charging

G Sensor

Touch the button

Metal bracelet, beautifully decorated with zirconia

Perfect for an elegant woman
Functions in the intelligent band:
Clock, date

vibe

pedometer

rangefinders

Calories burned

Sleep Monitor

Heart rate measurement

manometer

8 sports modes:

functioning

go

Mountaineering / trekking

Traveling a bicycle

swimming

basket-ball

Tennis / Badminton

football

Notifications - information about connections and messages is transmitted via bluetooth

Phone notifications - the name of the caller in the smartphone's phonebook will appear on the screen

stopwatch

Find the phone

Ability to reject calls - holding down the touch button
The latest generation processor affects the speed and performance of several complex operations simultaneously, as well as synchronization with our phone, without any blockage.
Compatibility:

Android and iOS

Display:

0.96 "

high quality

digital OLED

Bluetooth:

energy-saving Bluetooth Chip version 4.0

Processor:

NRF52

Battery:

120 mAh

Working time:

4-6 days

Belt material:

metal

Heart

Rate

Monitor:

Yes

Blood pressure:

Yes

Oxygenation:

Yes

Pedometer:

Yes

Blood pressure monitor:

Yes

Smart Sleep Monitor:

Yes
The very high resolution regarding the size of the device, affects the very beautiful image displayed on our device.
Bluetooth 4.0 , energy saving, bandwidth which is crucial in updating our clock software.
Clock dimensions:
11.50 mm

8 mm

46 mm

101 mm

46 mm

101 mm
The functions available in the smartphone application in Romanian:
Daily / weekly / monthly track history, calories burned, sleep duration, pulse

Pressure history

Calibration of the manometer

Sport mode - the route covered on the map (you must have the phone with the application and the GPS on)

Care function - the application can check the health of your loved ones (it is not necessary to have a smart tape to use this function)

User data

The daily purpose of the measures taken

The daily goal during sleep

Remote control of the smartphone's camera

Find the smart band function

Continuous heart rate monitoring (pulse test every 5 minutes)

Turn the screen backlight on / off when you raise your hand

Telephone notifications

SMS notifications

Do not disturb the function

Alarm clock / alarm

Software updates

Notifications from social applications: QQ, WeChat, Linkedin, Skype, Facebook Messenger, Twitter, WhatsApp, Viber, Line

Reminder to take medicine

Reminder for the meeting

The memory that there is no traffic

Reminder to drink with water
Take care of your health. Thanks to the dedicated application WearHealt , you can monitor your heart rate . In the application you can also calibrate your heart rate monitor . We can measure your heart rate in real time. You can monitor your heart rate every 5 minutes, setting continuous heart rate monitoring in application.
Take care of the health of your loved ones. Thanks to the dedicated application, you can add your loved ones, wife, parents, grandparents or friends and monitor their health from afar.
Sports function. There are eight modes of sport at our disposal: running, walking, climbing, cycling, swimming, basketball, tennis, badminton, soccer, trekking.
Notifications. On the screen of your smart tape you can read the beginning of the message that comes to us. We will receive notification through soft and discreet vibrations, due to which you no longer have to look for your phone in the bag.
When someone calls, we will see such a telephone connection on the screen on the smart tape. We will see who is calling, provided that the number and name are entered in the smartphone's phonebook.
The function of sleep monitoring. The smart watch knows when to sleep and when to wake up, so you can check how much you slept and how often you woke up at night.
The waterproof IP67 resistance means that it will never be awful.
Intelligent tape is IP67 water resistant, which means it can be used during everyday activities, for example, when washing your hands or on a rainy day, without fear that water will get inside, while you can't dip it. in salt water, avoid hot baths and hot steam. The IP67 waterproof standard allows a water temperature of +10 to 35 degrees Celsius.
The smart band is not suitable for swimming. IP67 protection protects it against atmospheric conditions and occasional immersion. Using it for other purposes may result in the warranty being forfeited.
Style and beauty. Thanks to this model, you can easily get out of the crowd. You have something nicer than an ordinary rubber band. Make yourself a gift and treat yourself to a beautiful metal watch, with an amazingly beautiful bracelet, decorated with unique zircons, which beautifully reflects the light and beautifully completes the unusual silver and gold frame.
The kit includes:
smart bracelet

charging cable

bracelet shortening device

manual user manual

An elegant gift box.
GOLD COLOR
ATTENTION - charging with 5V and 1A chargers is recommended. Such laptops or offices have USB charging parameters. Charging with 2A fast chargers is not recommended. It can lead to faster battery wear or even damage !! !
Galerie foto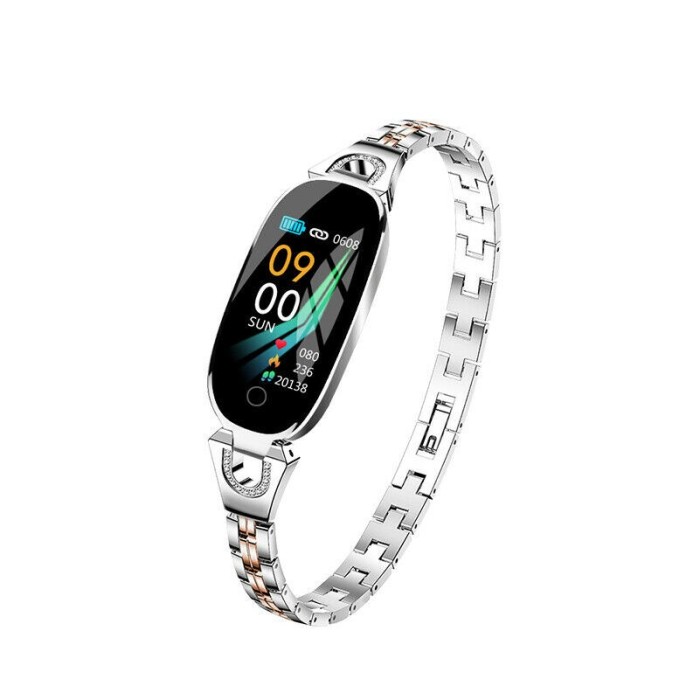 Modalitati de livrare si plata
LIVRARE
In Bucuresti
- Prin Curier rapid - livrare gratuita in max. 5 zile lucratoare
In Romania:
- Prin Curier rapid - livrare gratuita in max. 5 zile lucratoare
Politica de retur
- Produsul se poate returna in maxim 7 zile lucratoare
- Metoda de retur: Ramburs contravaloare produs
- Costul transportului va fi suportat de catre cumparator
Smartwatch ceas pentru femei H8, pulsometer tensiune arteriala argint
Smartwatch ceas pentru femei H8, pulsometer tensiune arteriala argint - Parerile cumparatorilor despre vanzator si produs