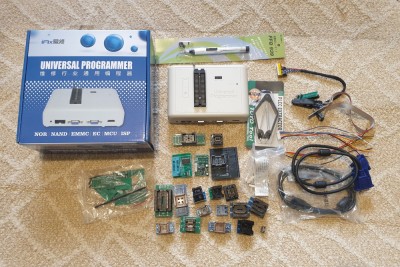 Programator universal RT809H EMMC-Nand FLASH + 38 adaptoare + cablu EMMC-Nand
Cost unic de transport la toate comenzile acestui vanzator
Produs:
Nou
, Certificat de garanție 6 luni
Politica de retur:
Acest produs poate fi returnat in 14 zile
Detalii


Vânzatorul este direct răspunzator pentru produsul afișat în această pagină.
Specificatii
100% Original RT809H Nand Programmer EMMC-Nand Extremely Fast Universal Programmer +38 Items+Edid Cable +Sucking Pen
RT809H EMMC-Nand FLASH Programmer + 38 Items WITH CABELS EMMC-Nand
Full Support LCD TV FLASH drivers read and write unlimited capacity TSOP48 nand FLASH EMMC TSOP56 pin TOP8-16 pin Support CAR DVD, SMART TV.
The Only universal programmer which can automatically detect chip number for all Chips.
The only universal programmer which can put ic in any position and make intelligent sense.
The Only universal programmer Support Read and program Laptop I/O via keyboard line.
The Only universal programmer Support Read and Program LCD TV VIA VGA and HDMI PORT.
The Only universal programmer Support ADD new flash by yourself without wait for factory.
The Only universal programmer built in Most of repair applications TV,DVD,DVB,and many isp software.
The Only universal programmer make selftest for LCD TV itself and diagnostic fault.
The best programmer to read and programing flash on motherboard without removing out
Support Read and Programming OTP area .
Support UPTO 64GB NAND FLASH
Short description:
-48-pins powerful pindrivers, no adapter required for any DIL devices
· ISP connector for in-circuit programming
· VGA port to read and write LCD TV-MONITORS without disassembly .
· HDMI port to read and write LCD TV-MONITORS without disassembly .
· Connection to PC: USB 2.0 (up to 480 Mbit/s, high speed/full speed) and 1.1 compatible interface
· Comfortable and easy to use control program, works with all versions of MS Windows
· Can support any flash and very easy to add new flash .
· High programming speed.
· Advanced and powerful software functions.
· Online Technical Support is also available 24 hours .
· One Year warranty.
· Provides very competitive price coupled with excellent hardware design for reliable programming.
· the programmer performs device insertion test (wrong or backward position) and contact check (poor contact pin-to-socket) before it programs each device. These capabilities, supported by overcurrent protection and signature-byte check help prevent chip damage due to operator error.
· The selftest capability allow to run diagnostic part of software to thoroughly check the health of the programmer.
· Support Auto select for any series of flash including TSOP48-NAND-EMMC-PLCC,,ETC however Programmer is driven by an easy-to-use control program with pull-down menu, hot keys and on-line help. Selecting of device is performed by its class, by manufacturer or simply by typing a fragment of vendor name and/or part number.
· All known data formats are supported. Automatic file format detection and conversion during loading of file.
· The software also provide a special information about programmed device. As a special, the drawings of all available packages are provided
· The software provide a full information for ISP implementation: Description of ISP connector pins for currently selected chip, recommended target design around in-circuit programmed chip and other necessary information.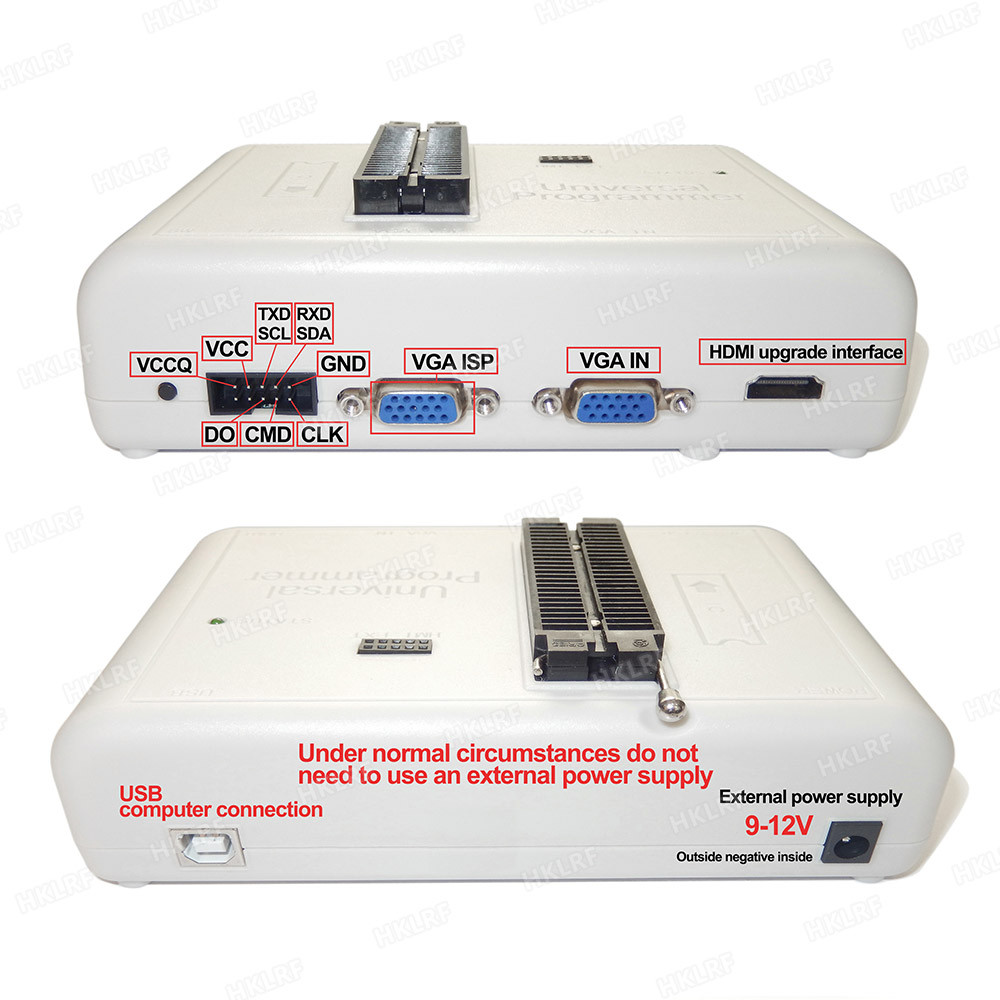 Packing List:
1 * RT809H universal programmer.
1 * TSOP56 Adapter RT-TSOP56-A V1.1
1 * original TSOP48 nest
1 * IC Chip Extractor.
1 * usb cable.
1 * vga cable.
1 * sas past the nest.
1 * SOIC8 - DIP8 adapter ZIF (205mil).
1 * SOP8 - DIP8 adapter (~ 150 million).
1 * SOP16 150 mill
1 * SOP28 300 mill (also supports SOP20 SOP18 SOP16 300MIL).
1 * PLCC44.
1 * PLCC32.
1 * PLCC28.
1 * PLCC20.<
1 * SOP44 in DIP44
1 * ISCP board with wire
1 * SOP20 200MIL
1 * SSOP28 to DIP28
1 * TSSOP8 in DIP8
1 * KB9012 board.
1 * SOP8 clamp test.
1 * TSOP - VSOP - SSOP adapter.
2 * IT8587 IT8585E flat cable.
1 * EC NPEC288 NPEC388 PCB Board. 1 * EC SOP28-DIP28 PCB Board.
1 * SOP8/MSOP8/SSOP8/SOP16-DIP16 simple adaptador.
1 * Adaptador SOP8-DIP8 simples.
1 * ISP Cable.
1 * ICSP Cable.
1 * RT-SOP-A ISP Cable.
1 * FFC Line 200MM 0.5mm-32P
1 * FFC Line 200MM 1.0mm-32P
1 * FPC Base Under 0.5mm-32P
1 * FPC Base Under 1.0mm-32P
1* 1.8V Adapter
1*sop16 -dip16 adapter
1*Edid Cable
1* sucking pen
1*QFN8-DIP8 WSON8-DIP8 8x6mm 6x5mm

For RT809H, you need to reset it: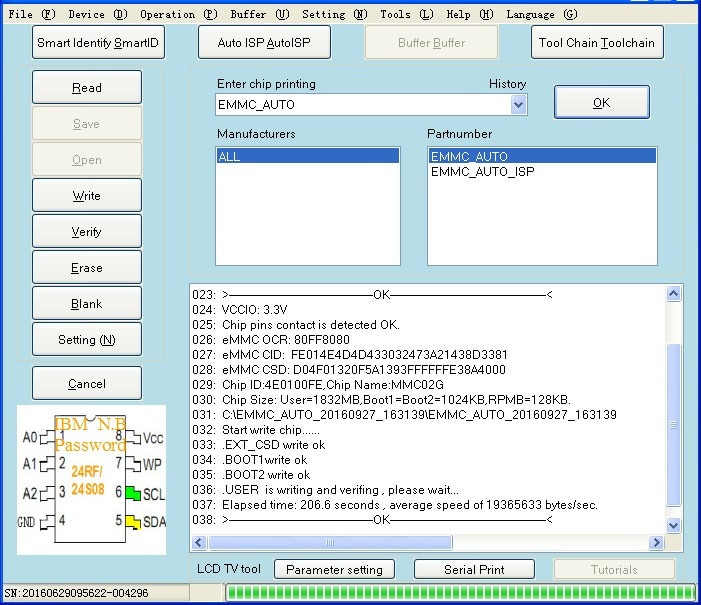 Galerie foto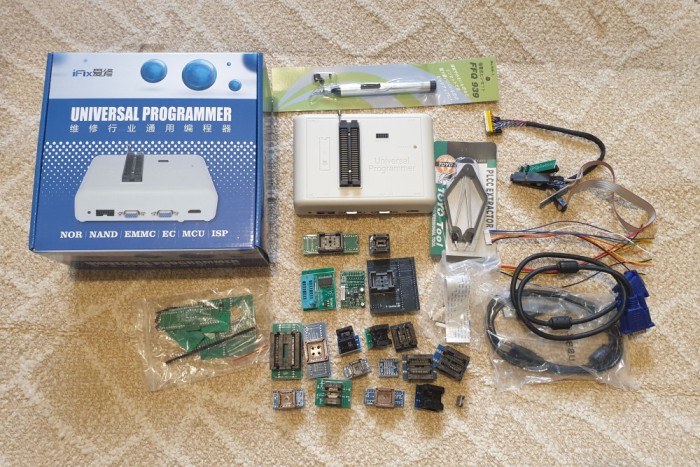 Modalitati de livrare si plata
LIVRARE
In Cluj-Napoca
- Predare personala in max. 3 zile lucratoare

- Prin Curier rapid - 24 Lei in max. 4 zile lucratoare
In Romania:
- Prin Curier rapid - 24 Lei in max. 4 zile lucratoare
PLATA
- La predare
- Ramburs
- Avans
Politica de retur
- Produsul se poate returna in maxim 14 zile lucratoare
- Metoda de retur: Ramburs contravaloare produs
- Costul transportului va fi suportat de catre cumparator
- Alte detalii: Retur acceptat in conditiile Garantiei de Livrare
Programator universal RT809H EMMC-Nand FLASH + 38 adaptoare + cablu EMMC-Nand
Programator universal RT809H EMMC-Nand FLASH + 38 adaptoare + cablu EMMC-Nand - Parerile cumparatorilor despre vanzator si produs